Tuning Fork TherapyŽ
Wooden Mallets and Hockey Pucks
Choose from 'large' or 'small' wooden mallets with rubber ball.
Sorry, but there is no choice of color.
Contact clare@charitydiy.org for pricing information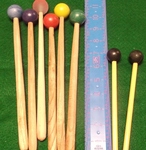 Hockey Pucks
The Hockey Puck fits perfectly in the palm of your hand so that you can hold it in one hand during your sessions to activate your tuning forks.
Hockey Puck measures 3" diameter across the top and bottom.
Nearly 1" tall.
Weight 6oz.
Handy, convenient and easy to use. You will love this item.
NO hole
Choose below:
To order one Hockey Puck