Tuning Fork TherapyŽ
Angel Tuning Forks, Crystal Tuners, Book and more
Biosonic
The 3-piece Angel Tuning Fork set is made of high quality aluminum and comes in a velvet pouch.
The tuning forks are stamped with the following frequencies:
4096 Hz
4160 Hz
4225 Hz
In the Tuning Fork Therapy level three manual, there is discussed many ways that you can use your Angelic tuning forks in a healing session. Among the ways discussed on how to use your tuning forks are the following:
Tap two tuning forks together and meditate upon the sound

Use the tuning forks to clear a room of negativity or stagnant energy

Use the tuning forks to call upon angelic presences in your healing sessions or for meditation
The Angelic Tuning Forks are great to use with clients who are holding on to a lot of anger, worry, frustrations and/or pain as these fork will help the client to release these emotions from their physical body and aura.
The Crystal Tuner, part of the 3pc Angel Tuning Fork Set, can be used to program your crystals and gemstones for use in the healing session. You can use these crystals as 'lasers,' to direct and increase the flow of energy.
One method of how you can use your Angelic Tuning Fork with a crystal.
To Do:
With the person lying on a table, take a pointed crystal in your non dominant hand and the crystal tuner in your dominant hand.
Strike the tuning fork and place the vibrating tip of the tuning fork on the crystal with the point of the crystal pointing towards the area on the client where you want to direct the energy. This works like a laser beam sending the frequency and vibration of the tuning fork and enhancing it through the crystal.
You can direct the energy toward a specific spot, or area, on the person's body that needs it, or you can use it in the client's aura. This method can break up stagnant energy and blockages in the person's body.
For more ideas and ways to use your crystal tuners, check out the information in the Tuning Fork Therapy® Level Three book available for purchase for $30.00 plus $4.99 postage.
To Purchase the book ONLY click on the link below:
Short Handled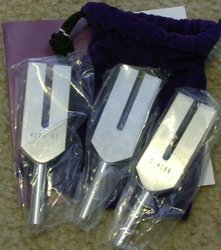 3-piece Angel Fork Set
This set comes from Biosonics
Cost $59.99 plust $6.99 postage inside the United States ONLY!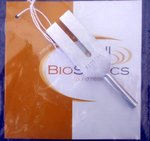 Biosonic Crystal Tuner
To purchase the Biosonic Crystal Tuning Fork which is of slighly better quality than other tuning forks that I have tried on the market - click below. Cost of Biosonic Crystal Tuning Fork is $27.99 plus $6.99 postage.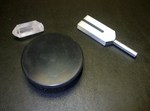 3-piece Crystal Tuner Set
Biosonic Crystal Tuner Fork Set includes Biosonic Crystal Fork, black Hockey Puck, and 2" crystal point.
Cost of set is $34.95 plus $6.99 postage.
Tuning Fork Therapy Level Three Book (only)
To learn more about how to use your Angel Tuning Fork set, you may want to purchase the Tuning Fork Therapy level three book. Cost of book only is $30 plus $4.99 postage in U.S.A.
*Agape Reiki
*Ahara Reiki
*Ama Deus
*Ama Deus Shamanic Healing
*Angel Reiki
*Angel Initiations
*Angels 7 Rays
*Angels of the Sun
*Angelic Elemental Template
*Animal Healing
*Aguamarine Dolphin
*Atlantian Crystal Healing
*Astral Star
*Aura Empowerment
...more
Agape Reiki
Agape is the Greek word for 'unconditional love.' It is the most precious of all other types of love. This course includes a tiny manual with one symbol and one attunement.
Cost of course: $25
Angel Reiki
Angel Reiki combines the loving healing energy of Reiki with help from the Angelic realms.There are 4 angels that are included in this system. Raphael, Gabriel, Michael and Uriel. System includes ways to add an Angel to work with you and to connect to the loving and healing power of the angels. Angel Reiki can be used alone or with traditional Usui Reiki. There is one manual but three attunements.
Cost of Course is $25 and includes emailed manual, 3 attunements and emailed certificate.
Aquamarine Dolphin Healing Ray
The information for Aquamarine Dolphin Healing Ray was channeled by Carolynn Llyo in 2006.
AQUARMARINE Dolphin Healing Ray is an emotional healing ray that connects you to the peaceful compassionate energy of the Dolphins.
Using this system can restore balance and harmony very quickly, and due to its very gentle flow – it is suitable for all.
There are no prerequisites to receiving this beautiful system although anyone who has had previous Dolphin attunements such as Dolphin Reiki may find that the Dolphin connection is particularly enhanced.
AQUAMARINE Dolphin Healing Ray works with past, present and future emotional issues.
You can use this energy to

work with other healing modalities and Reiki forms, as well as crystals – particularly Aquamarine!
Cost of manual, attunement and certificate which is emailed to you is $25
Atlantian Crystal Angels
There are no prequisites for this course.
Course includes one symbol
Atlantian Crystal Angels
Manual, attunement and certificate will be emailed to you.
Cost of Course: $25
Atlantian Crystal Activation
This system has no symbols.
Use this system for personal transformation and spiritual growth.
The Atlantian Crystal will appear differently to each student so be prepared to see the crystal in s different color and shape.
Manual, attunement and certificate will emailed to you.
Cost of course is $20
Angels 7 Rays
No pre-requisites. Cost $20
*
Angels of the Sun (part of the Planetary Angels series)
No pre-requisites. Cost $15
*
Angelic Elemental Template
No pre-requisites. Cost $20
Please Note--I will NOT ship products outside of the United States with totals less than $200. If you want to place a large order, contact me first at
TFtherapy@cs.com
. If you insist on ordering anyway, your money will be refunded to you LESS the fees paypal charges me for the refund.