Tuning Fork TherapyŽ offers the Meridian Tuning Fork Set
About the Meridian Tuning Fork Set
Use these tuning forks on the meridian system of the body.
14 piece set has Frequencies that include:
Large Instestine
Small Intestine
Lungs
Liver
Heart
Spleen
Stomach
GV Governing
VC Central (Conception)
Gall Bladder
Bladder
Triple Heater
Pericardia
Kidneys
The fork frequencies are as follows:
CV Central 60
GV Governing 100.90
Stomach 126.90
Spleen 264.90
Heart 289
Small Intestine 316
Bladder 343.80
Kidney 383.70
Pericardia 477
Triple Heater 496
Gall Bladder 506.80
Liver 1032
Lungs 2287
Large Intestine 4230
Cost of Meridian Fork Set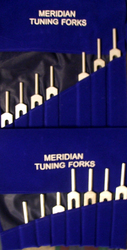 Please Note--I will NOT ship products outside of the United States with totals less than $200. If you want to place a large order, contact me first at TFtherapy@cs.com. If you insist on ordering anyway, your money will be refunded to you LESS the fees paypal charges me for the refund.