Tuning Fork TherapyŽ offers Whole Body Tuners
About the Whole Body Tuners
The Whole Body Tuners is a two-piece set that is based on the Pythagorean Scale and contains the forks, C & G.
C-256 Hz
G-384 Hz
Use these tuning forks in a number of ways on your body to enhance your body's own innate ability to heal itself.
Cost
Cost of Whole Body Tuning Fork set is $35.99 plus $6.99 postage in U.S.A.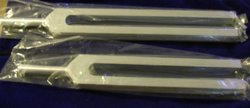 Please Note--I will NOT ship products outside of the United States with totals less than $200. If you want to place a large order, contact me first at TFtherapy@cs.com. If you insist on ordering anyway, your money will be refunded to you LESS the fees paypal charges me for the refund.