Tuning Fork TherapyŽ offers the DNA Nucleotides Tuning Fork Set
About the DNA Tuning Fork Set
The DNA Nucleotides tuning fork set contains 4 unweighted tuning forks that each corresponds to one of the nucleotides of the DNA as follows:
*Adenine: 545.6 Hz
*Guanine: 550.0 Hz
*Cytocine: 537.8 Hz
*Thymine: 543.4 Hz
Cost
Cost of DNA Nucleotides tuning fork set is $47.99 plus $5.99 postage in U.S.A.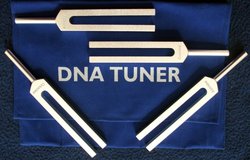 Please Note--I will NOT ship products outside of the United States with totals less than $200. If you want to place a large order, contact me first at TFtherapy@cs.com. If you insist on ordering anyway, your money will be refunded to you LESS the fees paypal charges me for the refund.