Tuning Fork Therapy®
About Vibrational Reiki™
Vibrational Reiki™ is the newest form of energy healing that combines Reiki, Sound and Vibrations into a system of natural healing that is more powerful and healing than any one system is alone.
*This system contains three levels of training, attunements and certification.
*This system is trademarked and copyrighted.
Symbols-You will be attuned to 3 symbols that will enhance your body's healing process. These symbols can be used to bring physical, spiritual and emotional healing to your life.
*ALL CERTIFICATES WILL BE EMAILED TO YOU
-ADDITIONAL FEES WIL BE CHARGED IF YOU WANT PRINTED CERTIFICATE MAILED TO YOU.
NOTE: ALL forks, courses, certifications and books are non refundable.
However, should a fork arrive damaged, return immediately for a prompt replacement. Do NOT wait more than two weeks after delivery to return defective merchandise as I will not honor the request.
About Vibrational Reiki™ Level One
In Vibrational Reiki™ level one, you will learn the wonderful natural healing power of Reiki.
Students will also learn:
*Hand positions for healing self and others
*The Cleansing Process
*How to Use Reiki on food, medicine, gemstones, plant and animals
*How to hold the hands when giving Reiki
*The Chakra System-discover what secrets each of your chakras hold for you. Find out what happens to your body when a chakra is out of balance. Learn how to put balance back into your chakra and energy system.
*Learn how to 'beam' Reiki energy across the room, or across the country.
*Find out what those energy sensations you are feeling really mean.
*Learn about tuning forks.
*Discover how to use tuning forks in a healing session.
*Learn how to hold, activate and use tuning forks for a variety of things in your everyday life.
*Learn three symbols and how these symbols can help to heal, ground, balance and protect you.
SAVE $$$ - Buy ALL THREE LEVELS
Cost of ALL THREE Levels (WITHOUT FORKS) is $250 plus $13.99 media mail postage in the United States.
Cost of ALL THREE LEVELS (WITH TUNING FORKS) is $359 plus $13.99 priority postage in the United States.
There are three levels of training in this healing and wonderful modality.
At each level of training, students will receive attunements to new symbols, learn new techniques and discover new ways to incorporate the healing powers of Reiki, sound and vibration together in the healing system.
All together, this is an unbeatable system of total healing.
When you have completed ALL three levels of training, you will be certified to train others in this healing modality.
*********
Level ONE Certification:
Cost of Level One training
$99 plus $8.99 postage in the

United States

.

(no tuning fork)

$129 plus $13.99 postage in the United Staes (

with

tuning fork)
Level One Certification with NO tuning fork. $99 plus $8.99 U.S. postage
********
Level TWO Certification
Cost of Vibrational Reiki™ Level Two Certification
$99.00 plus $8.99 postage inside of USA (without Tuning Fork Set)

$149 (With Harmonic Student Set and Hockey Puck) plus $12.99 postage in USA.
Cost of Level Two Certification without Forks. $99 Click here.
******
Level THREE Certification
Cost of Vibrational Reiki™ Level Three Certification
$99.00 plus $8.99 postage inside of USA (without Tuning Fork
$129 (With weighted OM tuning fork) plus $12.99 postage in USA.
Cost of Level Three Certification without Forks. $99 Click here.
CANADA-ALL three levels with tuning forks
Cost: $359.00 plus $48 priority.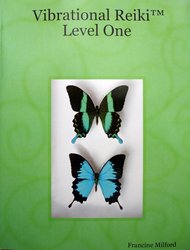 Become a Vibrational Reiki™ Practitioner
Vibrational Reiki™ Manual
Not interested in certification at this time? You can still purchase the Vibrational Reiki level one manual for only $24.99 plus $5.99 postage by click on the button below.
Student Comments
Hi Francine
I really find this course exceptional . I find it very well made .
The best I have seen by far. I love the pictures of hand placement and for what area to treat, and why .
Thanks
D.H.
2016 Prices for Instructors
When you are ready to teach your own classes, I have the following prices available to you. An invoice will be sent to you when you make your request to FrancineMilford@cs.com to verify your certification.
Books will be $10 each level plus postage
8pc Student sets with hockey pucks are $52 plus postage
Genesis fork is $15 plus postage
Weighted Om tuning fork is $29.99 plus postage
Please Note--I will NOT ship products outside of the United States with totals less than $200. If you want to place a large order, contact me first at FrancineMilford@cs.com. If you insist on ordering anyway, your money will be refunded to you LESS the fees paypal charges me for the refund.