Tuning Fork TherapyŽ
CD, DVD, Audio Visual Aides, tuning forks, and more~Clearance
NOTE: There are no refund or exchanges for products purchased from this website. If an item comes to you damaged in transit, then you have to deal with the postal carrier. Insurance can be purchased for an additional $6.99 below:
Single Fork Cloth Holders (5)
Angel Fork Set from India
Brown Cloth Case (small)
Brown Cloth Bag
Only 1 left.
Made for silverware but works to keep small tuning forks clean.
8 individual openings for your smaller tuning forks.
Cost: $5 plus $6.99 postage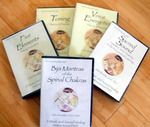 Handmade Tuning Fork Pendants
Each one is hand-made and unique.
Handwrapped in Copper.
Only 1 of 4 ever made.
Choose size and price below:
Xlarge, Large, Medium and Small.
Xlarge Tuning Fork Pendant
Cost: $9.99 plus $4.99 postage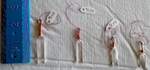 Planet Tuners and Voice Energetics
DVDs from Biosonic.
Brand New.
I only have 1 each.
Choose from Planet Tuners or Energetic Voices.
$20 each plus $6.99 postage
Order here:
Planet Tuners DVD
Cost: $20 plus $6.99
4-pocketed Blue Case for larger tuning forks