Tuning Fork TherapyŽ
CD, DVD, Audio Visual Aides, tuning forks, and more~Clearance
NOTE: There are no refunds or exchanges for products purchased from this website. If an item comes to you damaged in transit, then you have to deal with the postal carrier.
Isis Tapestry made in U.S.
Brand New
Beautiful
Only 1 available
100% Cotton made in the U.S.
Cost: $30 plus $13.99 postage in U.S.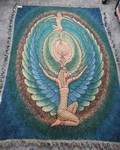 Small/Large Brown Bag
Brown Cloth Bag
Only 1 small one left.
Made for silverware but works to keep small tuning forks clean.
8 individual openings for your smaller tuning forks.
Was used for silverware.
Cost for Small: $5 plus $4.99 postage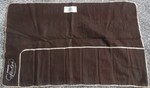 8pc Planet Fork Set
8pc Planet/Chakra Set
Brand New
Only 1 available
Comes in Burgundy velvet case
Cost: $75.00 plus $13.99 postage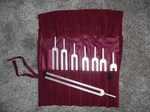 Biosonic DVD's
DVDs from Biosonic.
Brand New.
I only have 1 each.
Choose from Planet Tuners or Energetic Voices.
$15 each plus $7.99 postage
Order here:
Planet Tuners DVD
Cost: $15 plus $7.99