Tuning Fork TherapyŽ
About the Crystal Tuner Tuning Fork
Usually included in the three piece Angelic Tuning Fork Set, the Angel Tuning Fork, 4096 HZ, is also known as the Crystal Tuner. This tuning fork can be used along with crystals in the healing process.
One Method to Use your Angelic Tuning Fork
One method of how you can use your Angelic Tuning Fork with a crystal.
To Do:
With the person lying on a table, take a pointed crystal in your non dominant hand and the crystal tuner in your dominant hand.
Strike the tuning fork and place the vibrating tip of the tuning fork on the crystal with the point of the crystal pointing towards the area on the client where you want to direct the energy. This works like a laser beam sending the frequency and vibration of the tuning fork and enhancing it through the crystal.
You can direct the energy toward a specific spot, or area, on the person's body that needs it, or you can use it in the client's aura. This method can break up stagnant energy and blockages in the person's body.
For more ideas and ways to use your crystal tuners, check out the information in the Tuning Fork Therapy® Level Three book available for purchase for $35.00 plus $4.99 postage.
To Purchase the book ONLY click on the link below:
Biosonic Crystal Tuner
To purchase the Biosonic Crystal Tuning Fork which is of slighly better quality than other tuning forks that I have tried on the market - click below. Cost of Biosonic Crystal Tuning Fork is $27.99 plus $6.99 postage.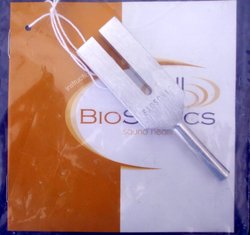 Tuning Fork TherapyŽ using Crystals Certification
Become a Tuning Fork Therapy® Crystal Practitioner.
Certifications includes 8 x 11" color book, crystal tuner and certification.
Successful completion of this course allows you to teach course to others.
Cost of Certification is $129.00 plus $13.99 postage.
Choose the course with NO crystal tuner for only $99 plus $9.99 postage in U.S.
Have more questions?
Tuning Fork TherapyŽ Level Two Certification